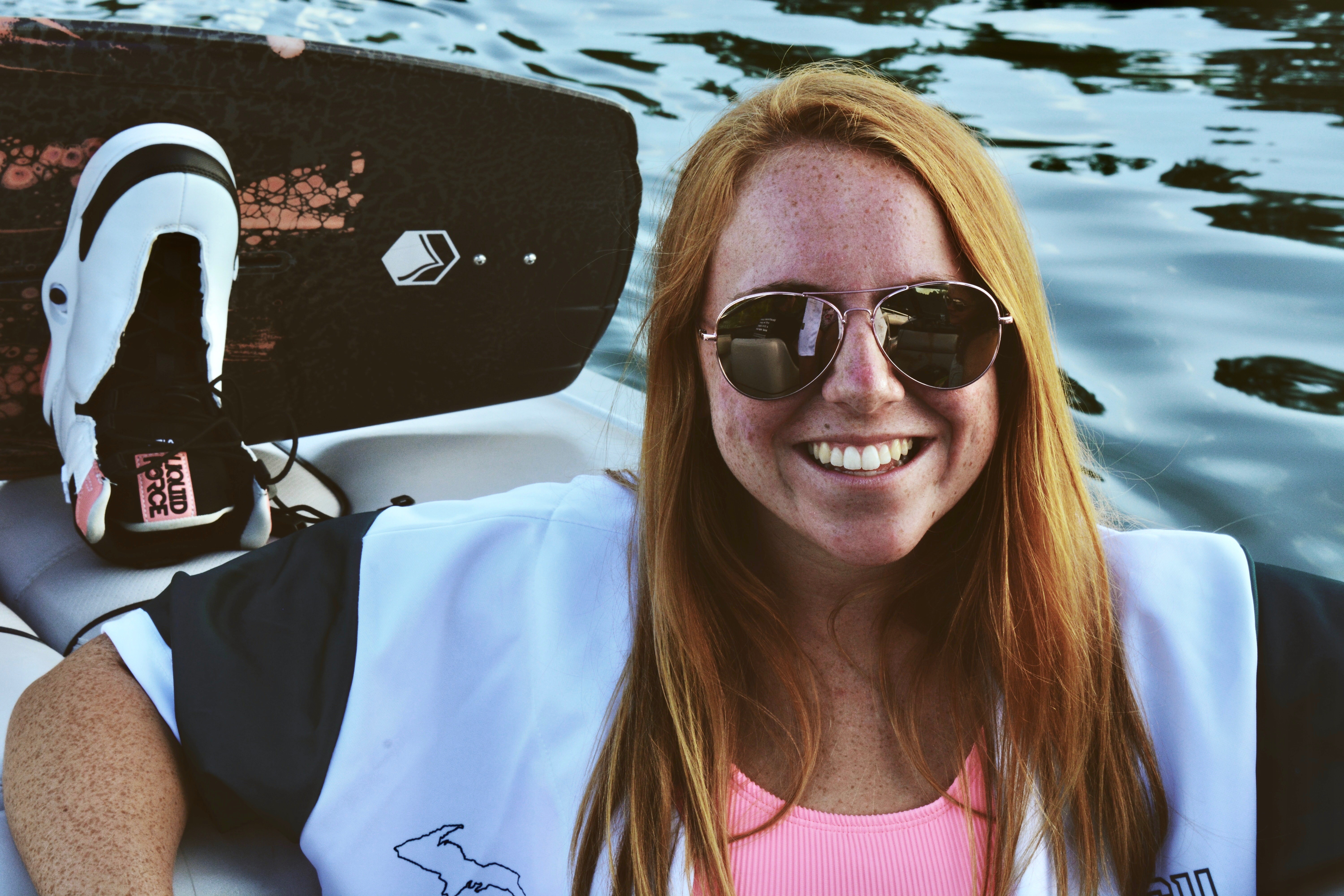 How to Pick Your Barletta Interior Colors
Designing your own Barletta with all the colors and options you want can be exciting. Though, it can also be overwhelming. How are you supposed to choose one interior color for furniture and flooring over another?
That's exactly what I'm here to help with. Choosing the interior color on your new boat doesn't need to be a difficult task. There are a few simple questions you can ask yourself to help with the decision and let you fall in love with your new Barletta at first sight.
One benefit of choosing Barletta for your next boat is that we only offer the best color choices for the interior of the boat. What I mean by that is, the interior colors offered are meant to match the luxurious and innovative style that is promised by Barletta.
Through the limited color choices, you are able to choose which interior will match your boat the best. By the time you're done reading this article, you should have no problem designing your boat to fit your style.
What Series?
The first question you need to answer is, what series of Barletta are you purchasing? The different series have different options for interior colors. Whether you are designing a Reserve, Lusso, Corsa, Cabrio, or Aria, this will be the first thing you'll need to figure out.
Once you've chosen which model to build, you will have a few interior color options for that series specifically. Although each series has a similar color pallet, they are different from one another, and the names of each color will signify the differences.
Reserve Series
The Reserve series is known for its luxury, innovation, and unmatched designs. The interior options on this boat fall right into line. There are three interior furniture options and two flooring options for this series.
The interior options available are Marquesan Gray with Charcoal accents, Linen with Carmella Tan accents, and Linen with Charcoal accents. All of these colors complement the Reserve series beautifully. Check out the images below to see the differences between the Marquesan and Linen colors.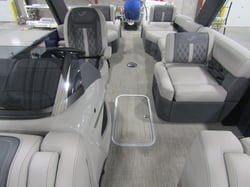 Marquesan Gray with Charcoal Linen with Carmella
As for the flooring options, you can choose between the Amore Tan and Amore Gray floors. The Amore Tan flooring is a bit more of a brown tone. This goes very well with the Linen and Carmella Tan furniture.
The Amore Gray has a gray tint. This accents the Marquesan Gray with Charcoal furniture and the Linen with Charcoal furniture very well. Both flooring options are elegant and complement the rest of the boat as intended.
Lusso Series
Next, let's move on to the Lusso series. There are three furniture options available and four flooring options. Let's go through what exactly these options are and how to pick which will work best for you and your boat.
To start, the furniture options are Argento Gray, Marquesan Gray with Charcoal, and Linen with Cafe. The Argento Gray is considered to be a medium/warm gray. The Marquesan Gray is a darker true gray so if you prefer darker colors, this might be a perfect option. The Linen with Cafe color is a light brown/tan for a subtle color pop on the boat. Check out these images of the furniture colors below.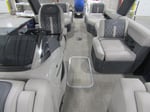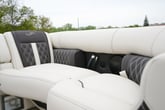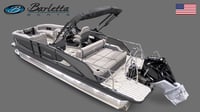 Marquesan Gray Linen with Cafe Argento Gray
Since there are four flooring options available for the Lusso series, you'll want to pick the one that matches your furniture. These options are Amore Gray, Amore Tan, Monza Teak, and Bella Teak. The Amore Tan and Amore Gray are the same flooring options that are available in the Reserve series.
As for the Monza Teak and Bella Teak flooring options, they have slightly different designs. The Monza Teak is an upgraded gray flooring, and the Bella Teak is an upgraded tan flooring. These floors have a striped design to them that flows elegantly with the rest of the boat.
Corsa Series
The Corsa series was crafted to emulate a sporty vibe. The aesthetic is bold and includes the option to have pops of bright, hot colors.
There are a total of six furniture combinations and two flooring options. The reason there are many more furniture color options is that there are color accents on these furniture pieces to match your boat.
Here are the furniture options available for Corsa:
Lindo - Brilliant White with Charcoal Accent
Calore - Brilliant White with Red Accent
Cielo - Brilliant White with Blue Accent
Lindo - Argento Gray with Charcoal Accent
Calore - Argento Gray with Red Accent
Cielo - Argento Gray with Blue Accent
You may be familiar with the Argento Gray from the Reserve and Lusso series, the New White offered only for the Corsa series. This is a bright white that is unique. If you prefer lighter-colored furniture you may want to choose the White over the Argento colors.
As for the flooring options available, the Corsa series has two unique options. These are Amore Gray and Platino.
Cabrio Series
As we move to this series, the furniture options get a bit simpler to match the boat. This series offers two furniture color options and two flooring options. Available in the Cabrio series are the Carmella Tan and the Marquesan Gray furniture colors.
The Carmella tan is the light brown color available in comparison to the Marquesan Gray. The Marquesan Gray is described as a true gray that matches any color combinations you choose for the exterior of your boat.
The flooring options available on Cabrio are Amore Tan and Amore Gray. The Amore Gray flooring is the standard gray available on all Barletta series. The Amore Tan compliments the Carmella Tan furniture wonderfully.
Aria Series
Last, but certainly not least, let's check out what interior options are available on the Aria series. To keep things simple in this series, there is only one furniture color available and one flooring option available. The furniture option available is the Marino Gray. The flooring option available is Tessa Gray.
These go very well with all exterior colors, so you won't have to worry about matching anything. And if you don't like making decisions on colors, this series keeps it simple for you.
Match the Exterior
We discussed this a little bit in the last section, however, there is more to consider when matching your interior to your exterior. You'll want to think about how the exterior colors will flow with the interior colors. Some may seem to clash in your eyes so make sure to consider them together.
The Lusso, Corsa, and Cabrio series allow for two exterior colors. As these colors will flow together, how will the interior colors flow with both colors? Consider this when you're choosing your interior furniture color and flooring color.
Another factor that you will want to consider is whether you opt for blackout rails or stick to the standard silver anodized rails. The reason you will want to consider this is that silver rails will likely not match a tan interior very well. For a tan interior, you may want to have blackout rails so the colors flow better together.
Take a close look at the exterior color(s) you're choosing for your boat. It may alter your decision on the interior colors. Whether it changes your decision or not, it's worth taking the time to look at it prior to ordering your new boat.
Talk With an Expert
Now that you have an idea of the interior color you'd like to see on your boat, chat with an expert. When I say an expert, I'm referring to the salesperson at your local Barletta dealer. They have likely seen every color combination and can help point you in the correct direction.
They can give you insights into what looks good together and what doesn't look the best together. Just because you talk to these experts doesn't mean you absolutely have to go with their opinion. You can, of course, choose whatever you'd like. However, it's worth considering their recommendations when choosing your interior colors.
Ready to Order
After considering every possible option for your new boat, it's time to decide what fits your style. You are designing your dream boat so choosing colors that you love is important. The interior furniture and flooring colors are going to be with you for as long as you own the boat.

With choosing exactly what you want, you'll be happy with your decision for years to come. And soon enough you'll be spending time on your dream boat. It'll be the perfect boat for summer days out on the water. Order your Barletta and get ready to spend time on the water.